Maine Catholic School Teacher of the Year Awarded During Special Assembly on October 10
BRUNSWICK—"I had no idea. It feels great, but wow."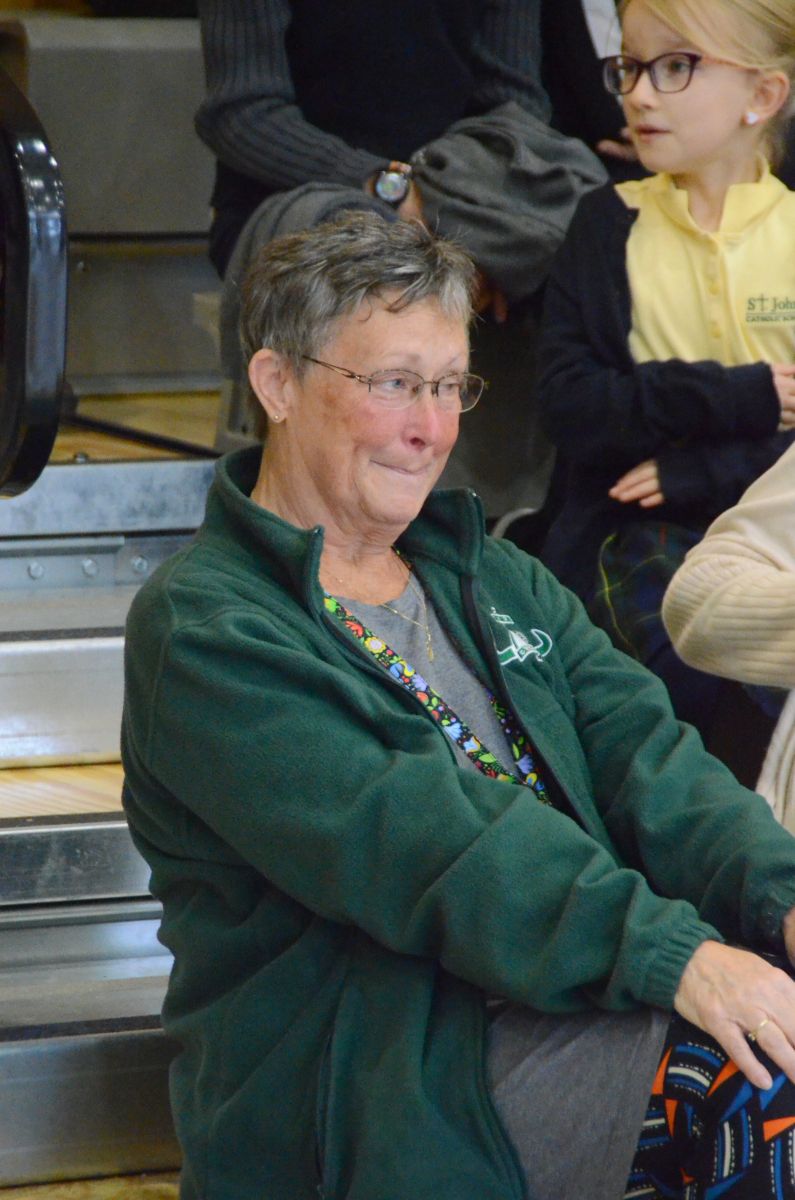 Receiving the 2019 Maine Catholic School Teacher of the Year Award may have caught Kathleen Curry off guard, but anyone who has been blessed to have her as a teacher during a two-plus decades career in Catholic education couldn't be less surprised.
Mrs. Curry, a kindergarten teacher at St. John's Catholic School in Brunswick, received the award from Marianne Pelletier, superintendent of Maine Catholic Schools, in front of a roaring crowd of students, staff, and family at the St. John's Community Center, located next to the school, on Thursday, October 10.
The annual award is given to a teacher who shows instructional excellence, innovation, and a commitment to recognizing faith in the classroom. Candidates are nominated by their principals with the winner ultimately chosen by a selection committee.
Only a small group of people knew that Mrs. Curry would receive the award prior to the announcement at the assembly. Among those to receive early notice were her family members to ensure they could be in attendance.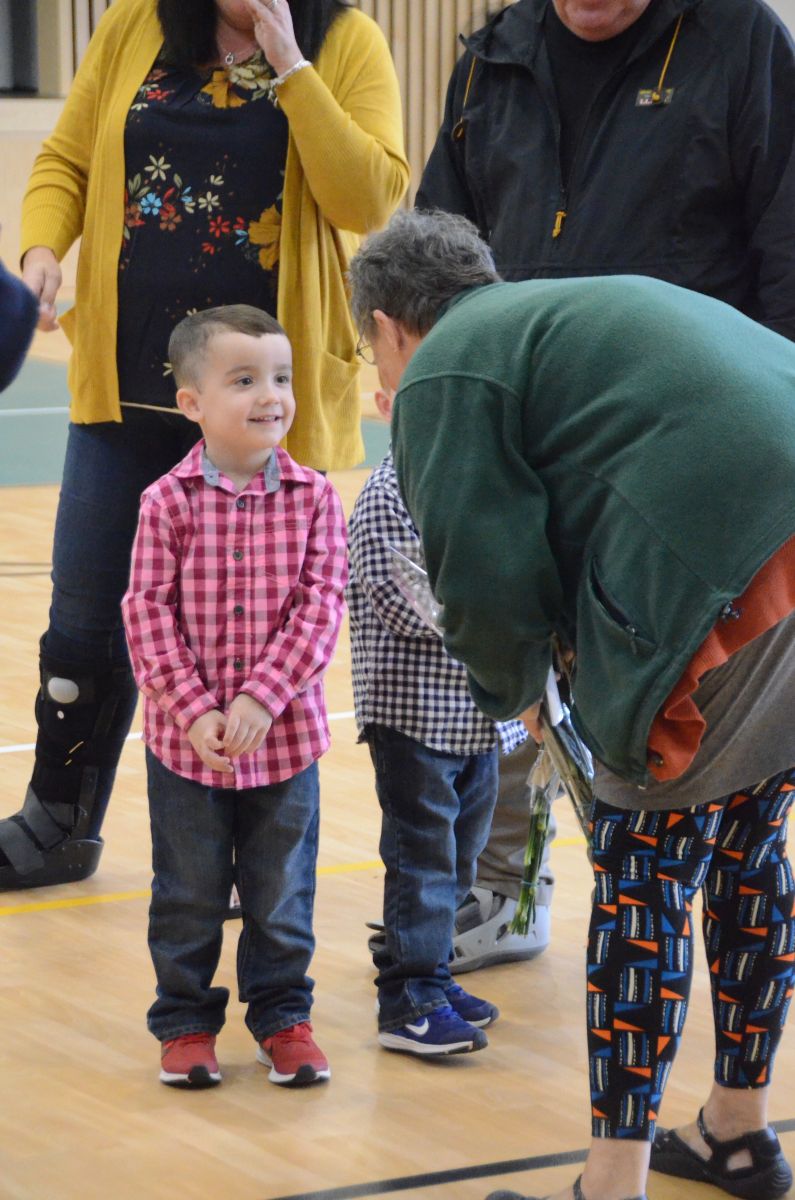 "She's going to be upset with me that I didn't tell her," joked her husband, Don, prior to the presentation. "She'll get over it, but she doesn't like attention."
Joining Don was Mrs. Curry's daughter, Meghan, and her two four-year-old grandsons, who officially spilled the beans during the assembly when they emerged from behind a curtain holding flowers for their grandmother.
"This is well deserved. She's done this forever and she loves it," said Meghan, as tears began to form in her eyes. "It's been a really great experience to be around her for me and for my kids. She's always made a loving home."
Mrs. Curry's home away from home has been a Catholic school, both as a student and teacher.
As a girl, she attended St. Joseph's followed by Catherine McAuley High School, both in Portland. When she realized she had a passion for teaching, it didn't take long for her to figure out where she should do it.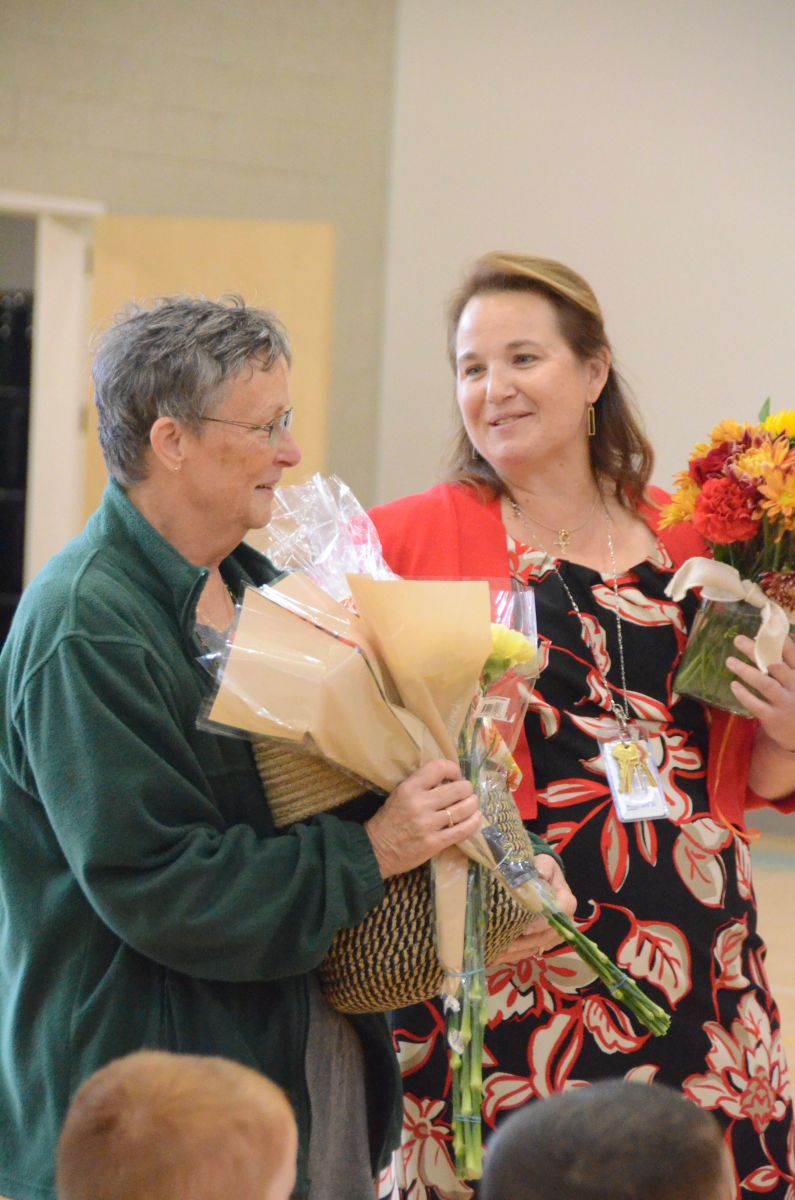 "I taught for a little while in public school but, thankfully, Sister Theresa Rand came and got me and now, I've been a teacher in a Catholic school for almost 25 years," said Mrs. Curry. "I was at Cathedral School in Portland and was actually acting principal when it closed, which broke my heart. It's been great at St. John's. This is my ninth year here."
In those nine years, she has become an integral part of the St. John's community. Despite driving to and from her home in Saco each day, Mrs. Curry serves as the director of the school's Learning Center, an aftercare program.
"She regularly works until 5 p.m. in the Learning Center, even after an entire day with kindergarten students," said Shelly Wheeler, principal of St. John's. "She understands and values the importance of Catholic education and is always willing to do whatever it takes to make St. John's better."
That includes altering her teaching style from student to student so that each child connects with both the material and the faith.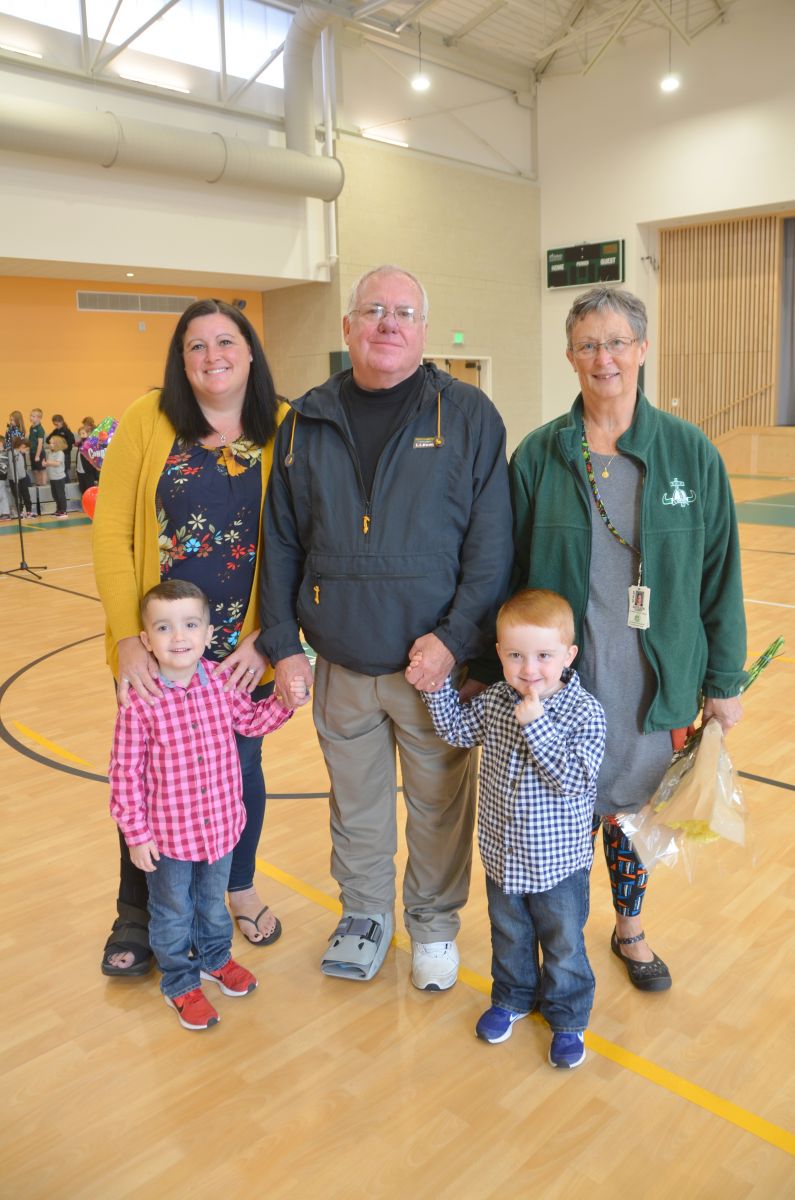 "She is gentle and patient in dealing with the kindergarteners and they really learn," said Fr. Joseph Ford, school chaplain at St. John's. "It's amazing to watch them from when they start to the end of the year. Already, now (October), you can see the advance they've made in just a month. She has a great way with them."
"One kindergarten student told me 'God gave us all different talents and we sometimes don't know what our talent is until we're older, but we have to remain kind because even if someone isn't good at something, we know God has big plans for him,'" said Wheeler. "When I asked this particular student how he knew all of that at such a young age, he said 'Mrs. Curry taught us, and it's true!' The students are seeing how the truth of life is through all things made by God."
From teaching her kindergarteners the "Alleluia" in sign language to having them write their own end of the day prayers together, Mrs. Curry works faith into nearly everything she does.
"She teaches her kindergarten students that God's love is our foundation and that we must treat and respect people in the way in which God has intended," said Pelletier. "The insights her students have been able to gain from her authentic Catholic teachings about the world are amazing."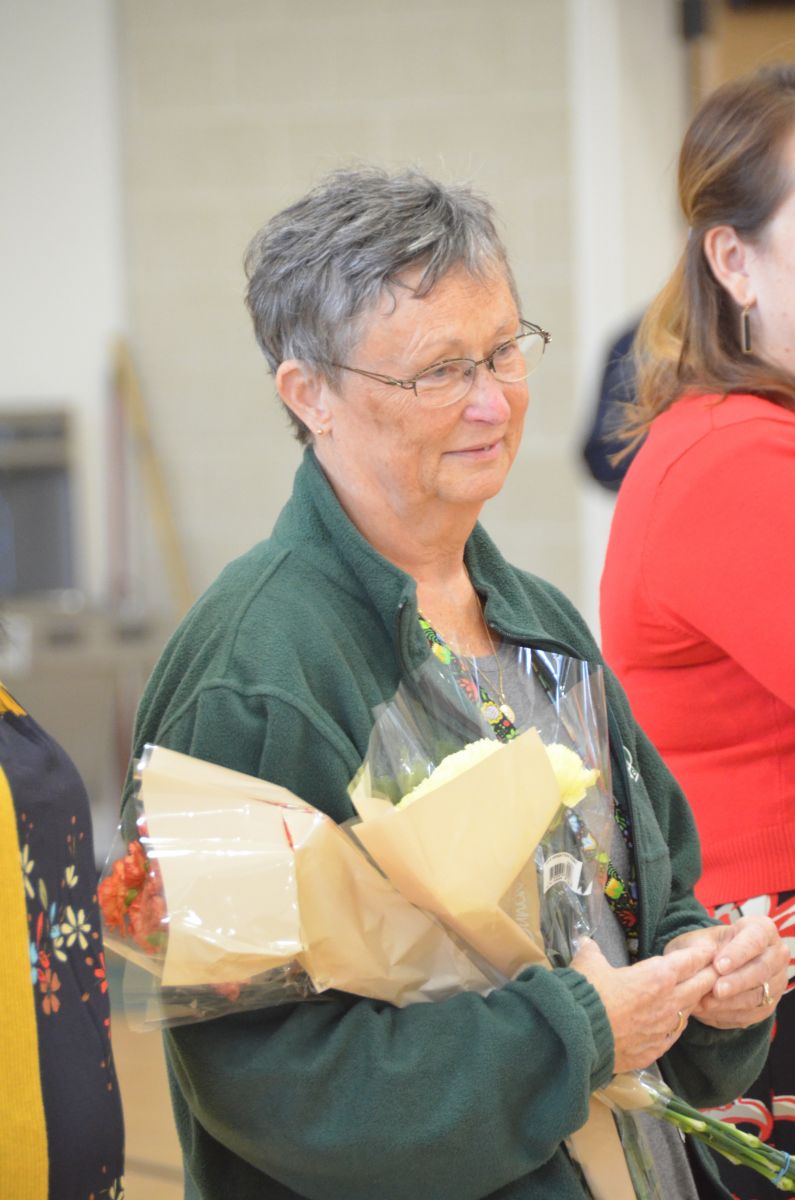 Mrs. Curry's quest to teach students about the beauty of God, the world, and the Catholic faith have extended beyond the walls of her classroom as well, including past efforts to teach refugee students living in Portland.
"It's special. It's humbling. The refugee children have strong faith and they are so eager to learn," said Mrs. Curry. "They want to learn and are so happy to be here. They are very giving, and their parents are helpful."
"This led Mrs. Curry to take the courses necessary to become English-Language Learner (ELL) certified so she could help all students struggling with a language barrier," said Wheeler. "This year, we took in five new students from Spain who didn't speak English. Mrs. Curry was a great resource for our teachers as we worked to implement a learning plan for students with very little English and a very large language barrier."
Through their wide smiles on Thursday, even a casual observer could see the affection the students hold for Mrs. Curry. Music teacher Jocelyn Carr and students sang a special tribute with lyrics written especially for their beloved teacher, and Wheeler herself became teary eyed when describing Mrs. Curry's impact on the school and community.
"I am blessed to have Mrs. Curry on our teaching staff," said Wheeler. "She is truly an amazing gift from God."
As the winner of the Maine Catholic School Teacher of the Year Award, Mrs. Curry will receive a plaque, a $500 cash prize, and an additional $500 for her classroom.
Mrs. Curry was appreciative of the recognition on Thursday, but even in her shining moment, offering gratitude felt more natural than receiving it.
"I'm so blessed. We do this out of love. We teach out of love. St. John's is great. This is a ministry that we do. Teaching is a ministry."
"She just loves what she does," said her husband. "She cares. It's who she is."